As one of the top destinations in Oahu, Hanauma Bay welcomes over a million visitors every year. Due to the number of daily visitors, finding parking at Hanauma Bay is often stressful and can spoil your travel plans. This guide includes our high editorial practices and will answer all your questions relating to the Hanauma Bay State Park lot, parking fees, and top alternatives. Discover the best time to arrive and how to get from Honolulu to Hawaii Kai without dealing with the car parking hassle.
Hanauma Bay Hours & Admission
The Hanauma Bay Nature Preserve is open from 6:45 AM to 4:00 PM Wednesday through Sunday, with the last entry available at 1:30 PM. The snorkel gear concession opens at 7 AM, while the gift shop and snack bar open at 8 AM. Aside from Mondays and Tuesdays, the park is closed on Christmas and New Year's Day. Note that you can bring small coolers with snacks and non-alcoholic beverages.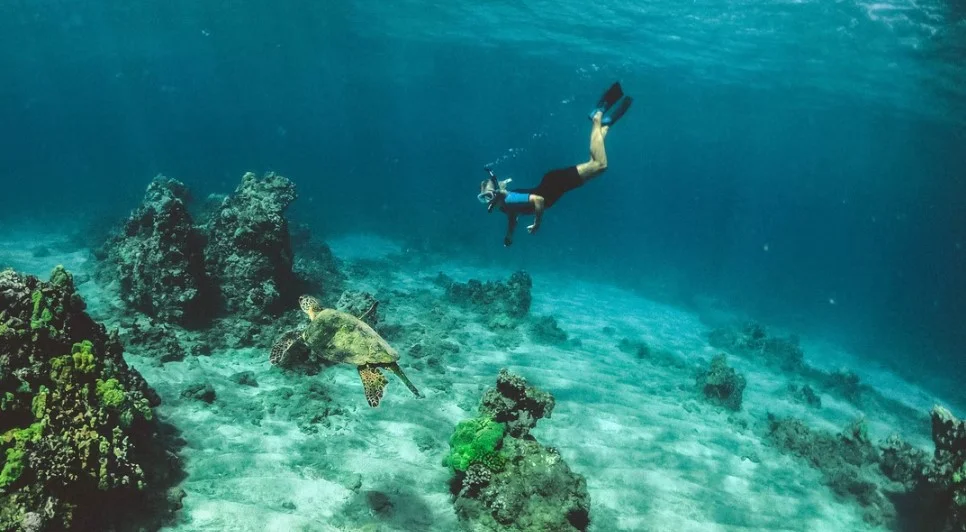 Visitors older than 12 pay a $25 fee when entering the Hanauma Bay State Park. Click here to use the online reservation system since walk-in tickets might be unavailable. Admission tickets don't include parking; learn more about it in the next section. 
Free admission is available for children, all locals with a State ID card, and active-duty military visiting Hanauma Bay. For the latest info, call (808) 768-6861.
All About Parking for Hanauma Bay Visitors
The Hanauma Bay Nature Preserve parking lot is just north of the bay and offers outdoor spots for 300 vehicles. Due to the number of car parking spots filling out quickly—usually by 7:30 AM—and early arrival is a must. Once it's full, security guards put up a sign at the top of the hill and prevent additional drivers from entering the area. If this happens, your only option is to circle the area and keep checking back or opt for one of the alternative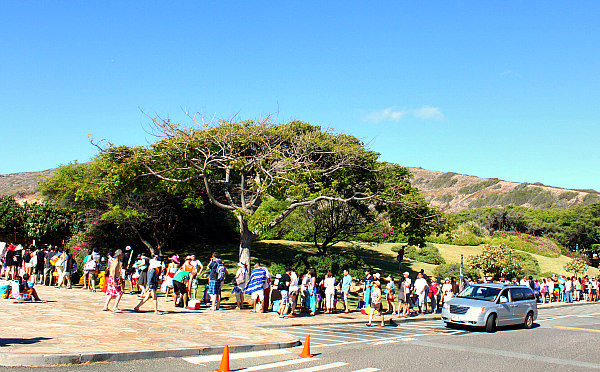 Note: All parking is obtainable on a first-come, first-served basis, even for those who have Hanauma Bay reservations.
How Much Is Parking at Hanauma Bay?
The Hanauma Bay parking fee differs according to the visitors' residency. The cost is only $1 for Hawai'i residents, while non-residents pay $3. If you exit the lot within 15 minutes, you'll get your money back. Don't forget to bring a valid ID.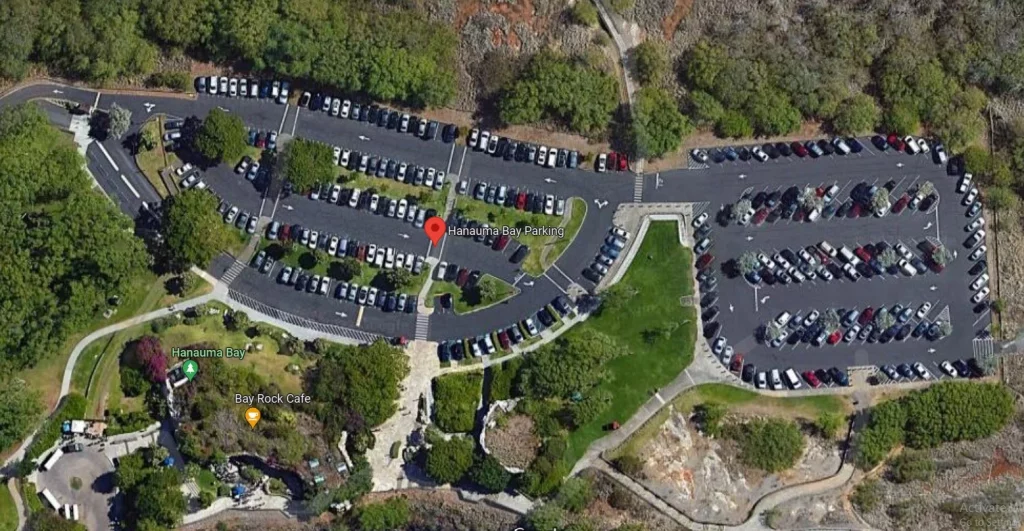 Tour buses and shuttles aren't allowed in anymore. However, if that changes in the meantime, check out the standard rates for licensed motor carriers. Prices vary according to the number of passengers:
$10 per vehicle accommodating 1–7 passengers;

$20 per vehicle accommodating 8–25 passengers;

$40 per vehicle accommodating over 25 passengers.
Call (808) 768-6861 if you have additional questions about the Hanauma Bay Nature Preserve features and fees.
Alternate Parking for Hanauma Bay
There's no official Hanauma Bay overflow parking area, but our team did a little digging to provide you with a decent alternative. The Koko Crater parking lot on Anapalu Street is the best nearby option, an 11-minute walk away.  Another smaller lot is available on the same street, closer to the tennis courts.
You could also leave your car in a grocery store lot or take advantage of hotel parking and then get a cab or Uber to Hanauma Bay. Some visitors also look for an on-street spot in the nearby residential area, but we suggest you ask any resident for advice.  
Transportation Alternatives to Hanauma Bay
If you're trying to avoid Hanauma Bay parking altogether, getting to the state park has become troublesome since the city bus service has been suspended. Route 22 connecting Waikiki and the state park is permanently discontinued, but Routes 1 and 1L run to Hawaii Kai. You can use one, get off at any Hawaii Kai stop, and take a taxicab or Uber.
If you're flying into the city, ask your hotel to arrange a shuttle, or click here to book it yourself. HNL is a 25-minute drive away, so you could also arrange an Uber at Honolulu Airport or rent a car. One of the best ways to find a suitable transfer is through platforms like Rome2Rio that compare all the options.
Use Our Help To Find Parking in Honolulu
Here at Parking Access, we put a lot of effort into creating the best parking guides for drivers worldwide. Our team has covered all major airports and most big venues and tourist attractions throughout the States. Residents and visitors of Honolulu and the surrounding area can use our assistance to discover Hanauma Bay parking tips or learn about the following.
Our airport parking guide also has a booking form that will help you compare prices, find top deals, and make a reservation on the spot.