Last Updated on August 7, 2022 by Snezana Grcak
CHS Field Parking
Located in downtown Saint Paul, Minnesota, CHS Field has been home to the St. Paul Saints since 2015. It has also hosted Hamline University's baseball games and other live events. While bicycle racks are at the park's entrances, car parking spaces are available in nearby surface lots and multi-storey garages. Alternatively, there are many on-street spots in the urban Lowertown area. We help drivers find the most suitable off-street parking lot or ramp for vehicles or ride public transport to avoid traffic. Use our guide to save time and money and find the best space or service near the ballpark.
Parking for CHS Field Visitors
Although there's no official CHS Field parking structure, you have plenty of convenient options in the vicinity. See the best ones in the following list, and then find them on the map below. Alternatively, use the interactive map for more info.
| | | | |
| --- | --- | --- | --- |
| Parking Facility | Standard Rate | Event Rate | Address |
| Saint Paul Farmers' Market Lot | ~$2 per hour | $5–$30 | 299 4th St. E. |
| A'BULAE Ramp | Starting at $8 | $15 | 255 6th St. E. |
| Union Depot Lot A | $13 per day | $15 | 214 4th St. E. |
| Union Depot Lot B | $2 per hour/$10 per day | $15 | 240 E. Kellogg Blvd. |
| Union Depot Lot C  | $4 per day | $10 | 390 E. Kellogg Blvd. |
| Union Depot Lot D | $2 per day | $10 | 392 E. Kellogg Blvd. |
| Kal Lot | $8 for up to 12 hours | $15 | 259 7th St. E |
| Lowertown Ramp | $5 (5 PM–5 AM) | $5–$20 | 316 Jackson St. N. |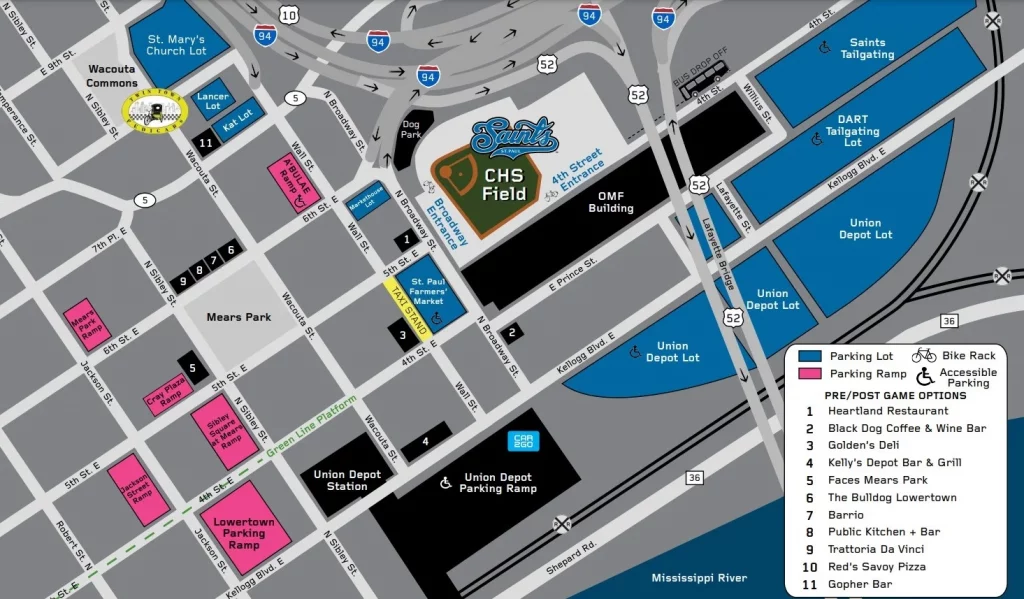 On-Street Parking Availability
Street spots are available on many nearby streets, and parking kiosks make payment easy. Downtown meters are enforced from 8 AM to 10 PM every day except Sunday. The $2.50 event parking rate applies on CHS Field event days after 6 PM. If you use the Passport Parking app to pay or extend your stay, the St. Paul zone is 651. Please read the signs carefully to avoid tickets or towing.
Take Public Transportation
Nearby Union Depot is a terminus for Metro Green Line, which runs to and from Target Field in downtown Minneapolis. Multiple buses also make stops on the surrounding streets, including 21, 54, 61, 63, 64, 70, 74, 94, 353, and 363. The local Metro Transit fare is $2.00 during non-rush hours and $2.50 during rush hours.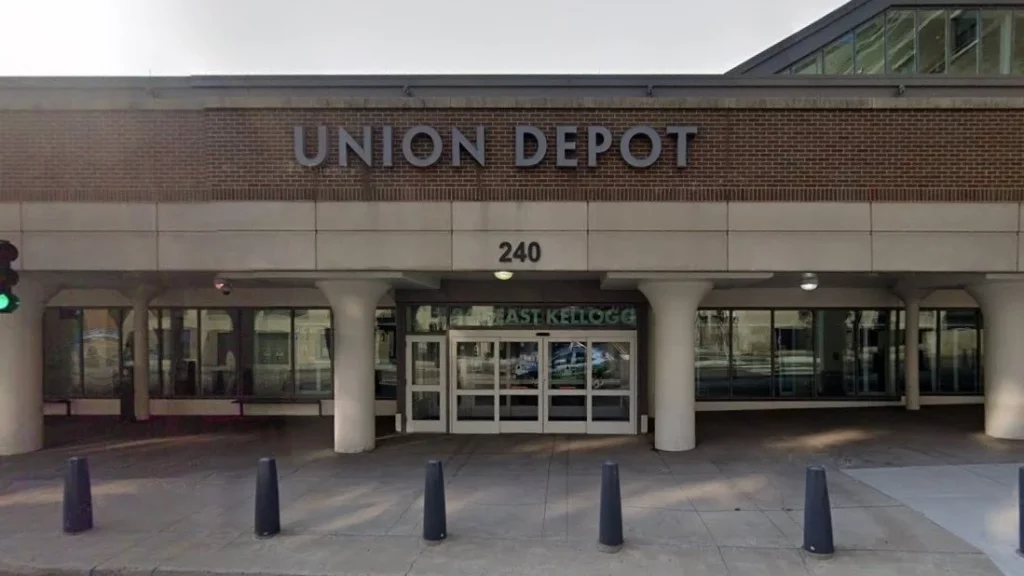 Additionally, MVTA Bus 480 stops right in front of CHS Field, while 484 and 489 drop off at the nearby 6th St. E. & Wall St. stop. MVTA bus fares also range from $2.00 to $2.50, depending on the time of the day.
Amtrak's St. Paul-Minneapolis Station on the Empire Builder train line is within a 5-minute walk south of the venue. Click here for all the info.
Find Parking in the Twin Cities Easily
Aside from CHS Field parking, Parking Access covers other venues in the Minneapolis-St. Paul area.
The international airport is 10 miles away from CHS Field, and we also help passengers book discounted MSP Parking in no time.