Last Updated on August 14, 2022 by Snezana Grcak
Allianz Field parking
Located in St. Paul, Minnesota, Allianz Field is a soccer stadium and home to Minnesota United FC. Fans looking to support their favorite team will have to deal with limited on-site parking, relying instead on off-site parking lots, nearby garages, and on-street alternatives. Read our guide to learn about the best parking spots or get gameday parking tips, updated rates, and transportation options. 
Parking Near Allianz Field
During previous seasons, fans were able to purchase parking passes that were valid season-long. However, only single-game parking passes and fewer lots are available for the current season. We advise fans to utilize nearby parking lots and book them in advance to guarantee a spot.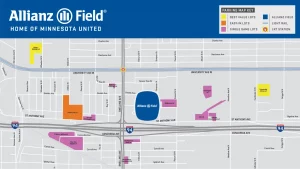 The map above displays all the available parking lots, and single-game parking passes may be purchased online. Rates range from $10 to $50, with lots closer to the stadium being more expensive. >>> Reserve parking through Vivid Seats to get the best deal and book a spot in the Health East Lot for only $20 for the Minnesota United FC games.

Alternative Parking Options
We did a little digging and discovered a few more parking options for stadium visitors. Consider these options if you're looking to save. 
Rosedale Mall: Visitors can enjoy free parking at Rosedale Mall and ride the A Line bus down Snelling Ave. This is an excellent choice for fans looking to circumvent post-game traffic. 
Neighborhood parking: Many visitors park on the neighborhood streets north of the stadium. However, know that three streets within a quarter-mile of the stadium (Concordia, Carroll, and Iglehart avenues between Asbury and Pascal Streets) are only residential permit parking. All visitors should abide by city parking rules and regulations to avoid incurring a parking ticket.
ADA Parking 
The Midpointe Event Center Lot, located between Central Ave W and Pascal St North across from the soccer stadium, offers several ADA parking spaces. Furthermore, fans may also take advantage of ADA pick-up and drop-off zones if they prefer.
Use Public Transportation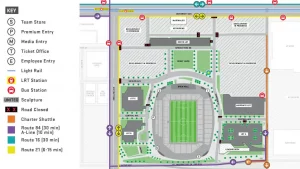 Several Metro Transit stations are near the stadium, making transportation easy from many locations around the Twin Cities. Metro Transit A Line services and local bus routes allow transportation options most of the day for commuters along the University and Snelling routes. Alternatively, the Green Light Rail has a stop near the stadium. Visit the Metro Transit website for stops, schedules, and fares.
Hassle-Free Parking in the Twin Cities 
Our guides do not only cover Allianz Field parking but other venues in the Minneapolis-St. Paul area.
Furthermore, we assist passengers in booking discounted MSP parking quickly and easily.