Indiana Convention Center parking
The Indiana Convention Center has hosted many important events, from fan fests and auto shows to major expos and comic cons. Conveniently located in Downtown Indianapolis, this spacious 566,000+ square feet convention center is connected to the Lucas Oil Stadium, with nearby parking lots and garages to accommodate visitors. Read our guide to find the best parking spot or learn about alternative on-street options, costs, and transportation options.
Convenient Parking Near Indiana Convention Center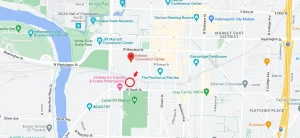 The most convenient parking lot is the Capital Improvement Board (CIB) Lot 3, situated below the convention center. This lot offers 380 spaces and charges a maximum daily rate of $10, with event rates ranging between $10 – $30. 
While convenient, this lot fills up quickly when events occur at the convention center or nearby Lucas Oil Stadium. As such, consider the following alternative options as a fallback. 
Additional Parking Options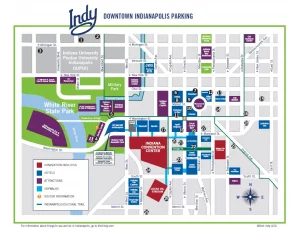 With over 70,000 parking spaces in Downtown Indianapolis, convention center visitors have plenty of alternative parking spots to choose from. All available parking areas are numbered on the map above. For lot names and addresses, check out this document. For hours, rates, and more information about each lot, check out this interactive map from Downtown Indy.
On-Street Alternatives
Street parking is abundant along W Maryland St, W South St, S Illinois St, and S Meridian St. Hourly rates range from $1 to $1.75/hour with a time limit of 3 to 6 hours. Metered parking is enforced Monday to Saturday from 7 AM to 11 PM. Parking restrictions may apply, especially during events in the area.
Ride Public Transit
Using IndyGo (Indianapolis Public Transporation Corporation) buses is the easiest way to access the convention center. Ride bus line 10 to Ohio St & Meridian Station or bus line 8 to Washington St & Senate Ave. Both stations are less than a 5-minute walk from the convention center. Visit the IndyGO website for stops, schedules, and fares. 
Parking in Indy Made Easy
In addition to Indiana Convention Center Parking, we also cover the following attractions.
If you're flying out of the city, read our Indianapolis Airport Parking guide to reserve cheap parking.