Here at Parking Access, we try to cover all country's popular locations and allow drivers to find cheap parking easily wherever they go! This comprehensive yet concise guide offers information about short-term and long-term parking at Breckenridge Ski Resort in Colorado. Finding the most suitable out of so many options can be challenging, and it varies based on your travel plan, needs, and budget. We'll help you compare all the Breckenridge Ski Resort parking locations and prices and explain transportation alternatives. Let's dive in!
All Breckenridge Ski Resort Parking Options
Visitors searching for parking at Breckenridge Resort have various options marked in different colors on the map below.
Ski Resort Parking

: White Lots

Paid Parking

: Green (10 AM – 8 PM), Orange (7 AM – 3 PM), and Red (7 AM – 5 PM)

Free Parking

: Blue Lots

Overnight Parking

: Yellow Lot

Employee Parking

: Purple Lots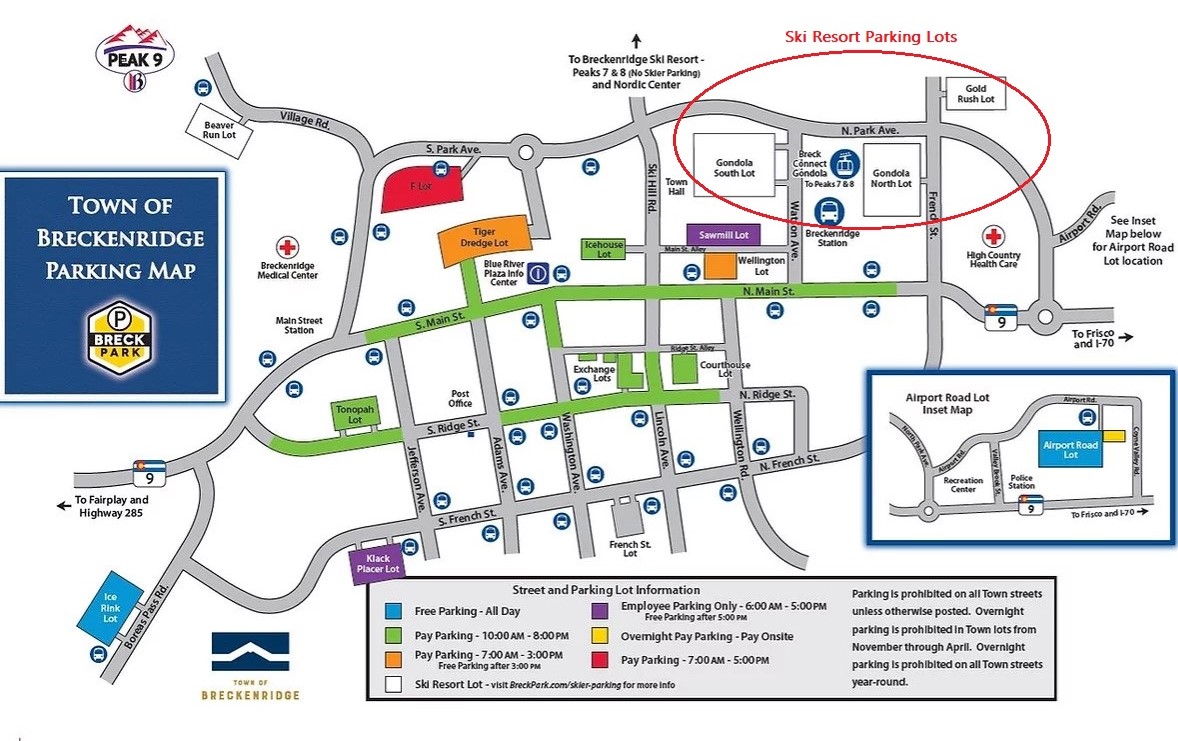 Ski Resort Parking Lots
The most convenient Breckenridge ski area parking is offered by North Gondola Lot, South Gondola Lot, and Gold Rush Lot. Since only the Gondola North Lot is open at the moment, we looked into the winter rates and listed them below.
| | | |
| --- | --- | --- |
| North Gondola Parking Hours | Friday to Sunday & Holidays | Monday to Thursday |
| 6 AM – 3 PM | $20  | $10  |
| 3 PM – 8 PM | $0.50+ per hour | $0.50+ per hour |
Note: When you purchase daily parking between 6 AM and 3 PM, your ticket will be valid until 8 PM; it's just that this option is purchasable until 3 PM.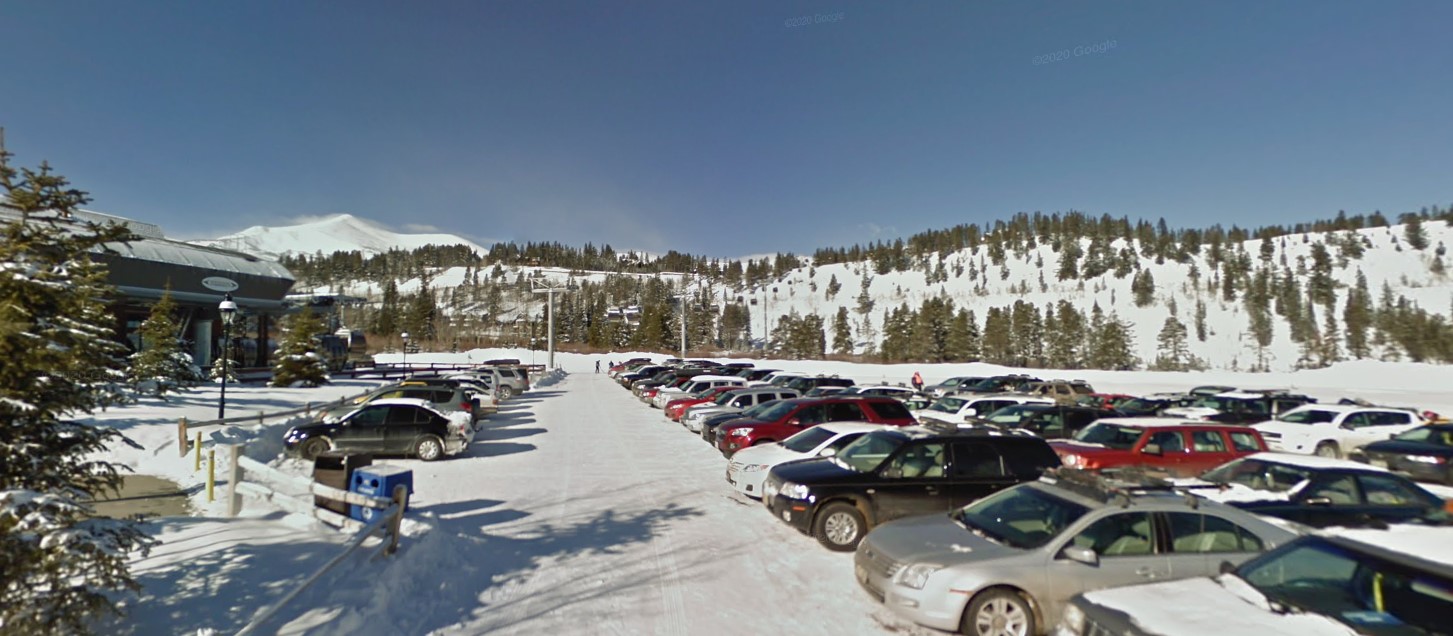 In addition to this Breckenridge Ski Resort parking lot, you have several other options:
Stables Lot

—reserved spaces are available for $40 with easy access to Peaks 7 and 8;

Beaver Run Lot

—Peak 9 slope-side parking available for $40 per day;

F Lot

—accessible from 400 S. Park Avenue and within walking distance of Peak 9.
All listed lots prohibit parking from 2 AM to 6 AM, while most have a $5 carpool discount.
Paid Parking in the Town of Breckenridge
The town offers over 1,000 self-parking spots across the downtown area, including Main Street. Thanks to the innovative system, visitors can pay via the mobile phone app or at many onsite kiosks. The Breckenridge Ski parking map near the top of the page shows the location of each area—they are marked in green, orange, and red.
Parking rates vary depending on the lot and the length of your stay. The first hour is $0.50 at all downtown locations, and then the cost slightly increases per every additional hour. After three hours, prices will increase significantly. See the full list of Monday-Thursday Rates or Weekend Rates.
Free Parking at the Resort
When it comes to Breckenridge Ski Resort, free parking is obtainable on a first-come, first-served basis at two locations: 
Ice Rink Lot
Airport Road Lot
These lots are open every day and offer a free shuttle service that regularly runs to and from the gondola or some peak bases. After 3 PM, complimentary parking is also offered by the Wellington Lot and Tiger Dredge Lot, which are ideal for shopping and dining in the town. Most other downtown lots also provide 15 minutes of free parking for brief stays.
Overnight Parking
If searching for a safe Breckenridge Ski parking area suitable for several-day stays, your best bet is the Airport Road Lot. The parking cost depends on the day.
Monday–Thursday: $5 per night
Friday–Sunday: $10 per night
There's a 14-day maximum, and parking is available for oversized vehicles as well. The only long-term alternative to public parking is staying in a hotel that offers guest parking; learn more about such lodging options in the following sections.
Breckenridge Hotels With Free Parking
If you're thinking about staying in the town for a while, booking a hotel room would be a smart choice. This way, you'll have a safe and convenient parking spot for the duration of your stay and be able to take a free shuttle bus to and from the base. The list below includes some of the best-rated Breckenridge hotels with parking.
Free Public Transit + Airport Shuttles
Not only is driving around the area often frustrating and pricey, but it's also completely unnecessary! 
Thanks to Free Ride, free transportation is available between the ski resort and the Town of Breckenridge. These buses run daily from 6:15 AM to 11:15 PM; you can download the My Free Ride app for more information. If searching for a transfer anywhere within the county, Summit Stage also provides complimentary transfers.
Denver International Airport is the closest airport to the ski resort. The trip takes 2 to 3 hours, depending on the route and your departure time. We suggest looking into the Denver Airport Shuttle guide to find a suitable ride, but Epic Mountain Express is the most popular option. The company has scheduled shuttles to Breckenridge but also provides private transfers.
Find Parking Easily at Major Ski Resorts
Our team has created countless guides for drivers all around the country! In addition to Breckenridge Ski Resort parking, we can help you learn about parking at other major ski resorts in Colorado, including the following.
We also provide up-to-date parking information about Utah resorts, such as Park City and Snowbird. 
If you plan to fly out of DEN soon, check out our Denver Airport Parking guide to learn all about on-site parking services, off-site lots with shuttles, handicap parking, and more!