Starting a journey at the Port of Baltimore and searching for a convenient long-term parking spot? Don't fret about it—Parking Access has all the Baltimore Cruise Port parking information you need before setting out! Whether you need parking within walking distance of the port or search for a low-cost off-site option, we'll help you find it! We also discuss Baltimore hotels to sleep at, leave your car, and get a free shuttle service to your Royal Caribbean or Carnival Cruise Line ship.
Baltimore Cruise Terminal Parking Options
Park your car at a local parking lot before your cruise—check out your parking options on our list. It offers the best vehicle parking services, and you can learn more about each lot below.
Please note that parkingaccess.com offers its visitors a way to quickly get a quote and reserve parking. We work directly with parking lots and they pay us a commission to market their companies. You are supporting our site by booking with parkingaccess.com and one of the parking lots listed below. Thank you.
Official Baltimore Cruise Port Parking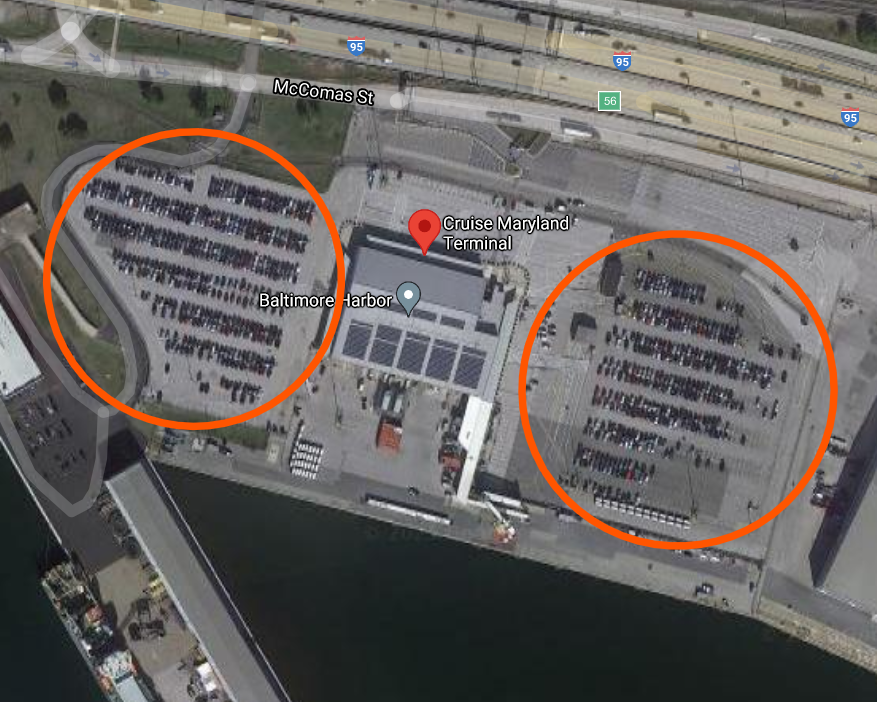 Baltimore Cruise Terminal is situated at 2001 East McComas Street. Here are the most important facts about official Baltimore Cruise parking:
Starting at $15 per day, you pay for convenience when you leave your car at the safe parking lot a short walk away from the Cruise Maryland Terminal.
Cruise parking is $30 per day for recreational vehicles under 30'​ and $40 per day for vehicles over 30'​.
Upon your arrival, go to the tent marked "Cruise Luggage Tags" which is located on the left when you enter the terminal. 
Drop off your luggage in the luggage boxes for screening & handling, after which you will be directed to the secure Baltimore cruise parking location.
You pay upon arrival using a credit card, cash, or checks.
Accessible parking is available on-site for any cruiser who has a disabled parking permit.
Off-Site Baltimore Cruise Port Parking
The Parking Spot is a quite popular option available for all airport and cruise passengers in Baltimore. They offer a fenced and safe lot but without free shuttles at the moment. The online rate is as low as $11 per day, and it can be a little lower if you receive a coupon.
BWI Speedy Park is about 13 miles away from the port. The daily rate is lower—only $7 per day—but you also pay a one-time $50 valet fee. For this reason, if you're going away for a week, the official Baltimore Cruise Terminal parking will be a better choice.
Instapark offers several other off-site parking options for both standard and oversized vehicles. Check them out before making reservations to compare all the rates and save a lot:
Daily parking rates at these locations start at $8.90 per day!
Top 5 Hotels for Parking (Park & Cruise Hotels)
In addition to off-site alternatives, you may book a Fly, Snooze & Cruise package if you plan on staying in a nearby hotel. Many hotels that offer Baltimore Park Sleep Fly deals are available for cruises as well. These packages allow you to park your car at the hotel during your trip and get free transportation to/from the Port of Baltimore ships. 
Best Western Plus Hotel and Conference Center
Conveniently located 3.6 miles from 2001 East McComas Street, this is one of the most popular Park & Cruise hotels. One of the reasons is probably the price since it is the cheapest one. You will get parking for the duration of your cruise trip, a shuttle ride to Baltimore Port, and breakfast for $140.
Staybridge Suites Inner Harbor
This is the closest hotel to the Port of Baltimore, it is 3.4 miles away. The Fly, Snooze, and Cruise package costs around $170 and consists of parking for up to 7 days and a shuttle service to/from the cruise terminal for 2 adults and 2 children. If there is an additional passenger, the price will be $10 higher.
Sleep Inn & Suites Downtown Inner Harbor
The distance between this hotel and the port is 3.8 miles. The parking package includes parking for the time of your cruise, shuttle transportation to/from Port of Baltimore for 2 adults and 2 children, and a free breakfast buffet. The price is as low as $199.
Holiday Inn Express Baltimore at the Stadiums
Their Fly, Snooze, and Cruise package include shuttle service to/from the Port of Baltimore, hotel parking for up to 8 days, free WiFi, and complimentary breakfast. The price for this package is $225. The hotel is 4.4 miles away from the cruise port.
Residence Inn White Marsh
This accommodation is the farthest away from the cruise port – about 14 miles – and it is also the most expensive alternative. For the price of $239, you can get parking for up to 10 nights and transportation to and from the cruise port.
Baltimore Cruise Port Parking in a Nutshell
Baltimore Cruise Port has several options for travelers. Passengers flying into Baltimore-Washington International Airport can use one of the Fly, Snooze & Cruise hotels. They allow you to arrive one day before your cruise, get a night's rest, and hop on a free shuttle to the cruise port. Some of the hotels include breakfast in their packages. This is a great service, and we highly recommend it.
If you live within driving distance, you have a few options for parking near Baltimore Cruise Port. The most expensive involves leaving your car at the official port parking lot, but this is also the most convenient option. There are only a couple of other off-site parking lots in the area with convenient amenities and services.
You will get a free shuttle to and from the cruise terminal, but that can take a lot of your time, especially if the rides are scheduled. On the other hand, off-site lots are a good decision if you want to reduce your expenses.
Parking Access offers a quick and simple way to book your airport parking or spots at many cruise ports—check out our search results and see what works for you. Passengers also searched for: