This post also contains affiliate links and we will be compensated if you make a purchase after clicking on our links.
The Bert L. and Iris S. Wolstein Center, commonly known as the Wolstein Center, is an indoor sports and entertainment venue on the Cleveland State University campus. As home to the Cleveland Charge and Cleveland State Vikings teams, it's trendy among basketball fans. Conveniently located near downtown, the Wolstein Center at CSU offers ample parking, and we'll help you find the most convenient parking spot! Learn about the Wolstein Center parking garage, daily fees, ADA parking, and cheap alternatives. Use the info and hot tips to plan your trip and have a hassle-free day!
Wolstein Center Parking in a Nutshell
Due to the venue's ideal location, the Wolstein Center visitors have a variety of options and over 3,000 parking spaces within walking distance. The most convenient option is the South Garage—the only parking facility operated by CSU Parking Services. The four-level garage entrance is on East 21st Street, a 5-minute walk from the arena. 
It's open 24/7, and all public parking spots are obtainable on a first-come, first-served basis; there's no reserved parking. The 8'2" height restriction applies and only selected oversized vehicles can access the garage. Overnight parking is available for any CSU Permit holder presenting a valid overnight sticker. 
Aside from the South Garage, visitors searching for Wolstein Center vaccine parking can use several surface parking lots south of the venue.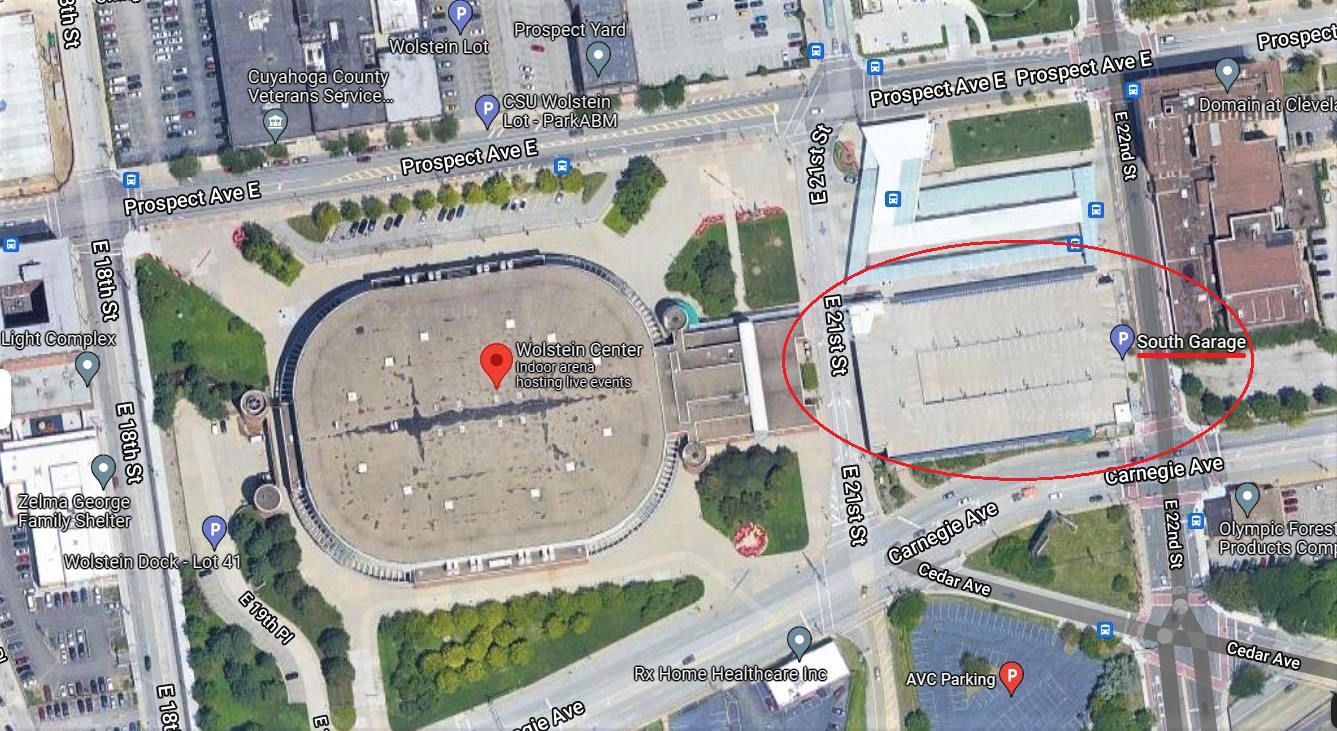 How Much Is Parking at Wolstein Center's South Garage?
The South Garage charges special flat parking fees on event days, while the general parking prices are as follows.
| | |
| --- | --- |
| Duration | Parking Cost |
| First hour | $2 |
| Every additional hour | $1 |
| Daily maximum  | $10 |
Event parking rates vary according to the event, and they charge upon entrance. On non-event days, you pay for parking when exiting the garage. For additional info about the CSU South Garage and its rates, call Parking & Transportation Services at 216-687-2023.
Accessible Parking
Short-term parking for Wolstein center visitors with disabilities is available on the north side of the venue. Guests can access the ADA parking area from Prospect Avenue—check out the Wolstein Center parking map above to find it. Each vehicle occupying an ADA spot must present a state-issued disabled parking placard or license plate.
On-Street Parking Around Wolstein Center
When it comes to metered parking, Wolstein Center guests can find a limited number of spots on Prospect Avenue and Carnegie Avenue. East 18th Street is the best option during the evenings since East 21st Street doesn't provide street parking. If you come across a vacant stall, pay attention to the posted time limits and other parking restrictions that may apply. Read the signs carefully to avoid Cleveland parking tickets or towing.
Additional Parking Near Wolstein Center
Many parking lots (not operated by CSU) are available within walking distance of the Wolstein Center. Availability and rates in lots on Prospect Avenue, Carnegie Avenue, East 18th Street, and Central Avenue vary depending on the event or time of the day. Be cautious when using these lots, and make sure the attendant has a proper ID or uniform before you pay. Hotels in the area may offer free parking sites to their guests, so check them out if you plan on booking a room nearby. 
If you're willing to take a long walk to cut your costs, we have a few suggestions! Our team looked into city parking areas and discovered their rates during the Cleveland Charge games.
The

1020 Bolivar Road Garage

is placed within a 9-minute walk of the venue, and its event parking fee is

$10

.

If you take a 15-minute stroll to 999 Chester Avenue, you could park in the

Huntington Garage

for only

$5

.

Downtown parking

fees start at only

$3

; you can park in one of the lots and then use public transportation to reach the arena.
Learn more about transportation services below.
How To Get To Wolstein Center via Public Transit
The Stephanie Tubbs Jones Transit Center is right next to the South Garage and allows travelers to reach the Wolstein Center from all parts of the city. Several RTA bus lines and Megabus pick up passengers at this location, while RTA Route 8 also has a few stops along Prospect Ave. The RTA bus fare is only $2.50.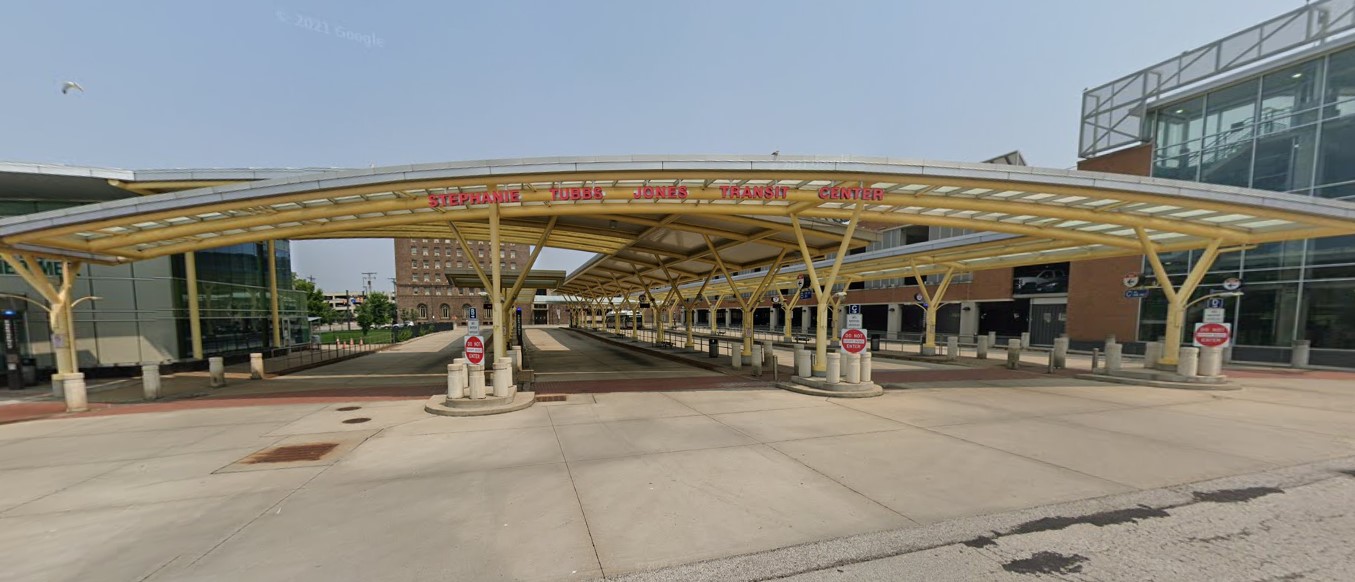 Learn More About Parking in Cleveland 
Our team works hard to create comprehensive and up-to-date car parking guides covering all points of interest across the country! Aside from Wolstein Center parking, we can assist you in finding fairly-priced Cleveland monthly parking and event parking at the following venues.
If you're flying out of Cleveland Hopkins International Airport and looking for discounted parking at or near your terminal, our guide to Cleveland Airport Parking is what you need. It comprises all on-site and off-site parking services, and you may use our booking system to reserve a spot in no time!