This post also contains affiliate links and we will be compensated if you make a purchase after clicking on our links.
Thanks to the Tampa Convention Center's convenient waterfront location, it has incredible views of both Tampa Bay and the city's horizon. The area is also suitable for drivers coming to the TCC since there are plenty of car parking options. Our comprehensive guide will provide the Tampa Convention Center parking locations, hourly and daily fees, and the most cost-effective alternatives. You'll also learn how to use the parking app and avoid pricey citations!
For driving directions to the convention center in downtown Tampa, use the following address: 333 S Franklin St, Tampa, FL 33602.
Tampa Convention Center Parking in a Nutshell
With so many options in the area, finding convenient parking at the Tampa Convention Center is pretty straightforward. We'll help you get familiar with the neighborhood and discover the locations of all car parks. The main garage parking facility and the circle drive in front of the TCC offer around 500 car parking spots. Additional spaces are available in multiple nearby parking structures and on the streets around the TCC. Keep reading to discover relevant information about each option.
TCC Parking Garage
The main Tampa Convention Center garage is located at 141 E. Brorein St., while the entrance is accessible from Brorein Street and Tampa Street. In addition to 454 standard parking stalls, it has 11 ADA spots and 2 EV charging stations. Oversized vehicles larger than 6'6″ cannot enter the facility, and drivers should opt for one of the lots below. Overnight parking is allowed up to 6 AM.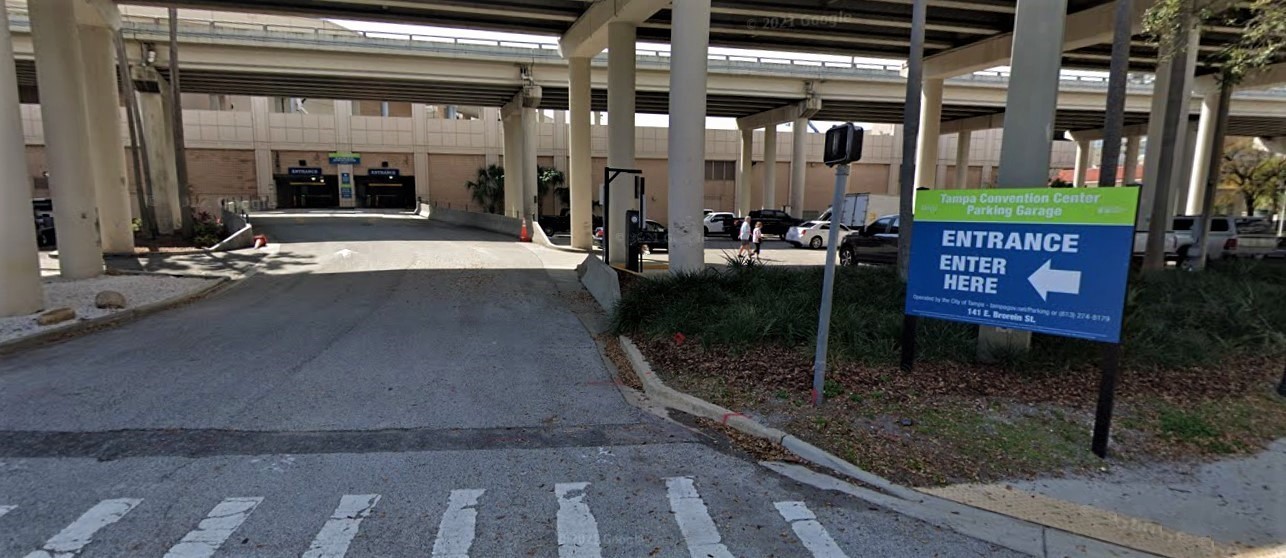 Here are the Tampa Convention Center parking garage rates:
Non-event hourly rate: $2
Non-event daily maximum: $12
Event parking price: $5 to $50
To pay your daily parking fee, use the ParkMobile app for Zone 9912. You can pay at the pay stations within the garage or through the app using your credit card. Note that the stations don't dispense change.
TCC Front Circle Drive
The closest parking for Tampa Convention Center visitors is available outside the entrance on circle drive. There are over 35 metered parking spaces, and the cost is $2.50 per hour. Short-term parking at this location is obtainable daily from 8 AM to midnight; you cannot stay overnight. Check out the section about the ParkMobile app below to learn how to use it to pay for on-street parking.
Additional Parking Garages & Lots
If the official TCC garage is full, or you search for cheaper alternatives, our team has a few suggestions. We listed the top parking lots and garages with similar or lower rates in the vicinity. Note that the following prices apply on non-event days, while the fees for special events range from $5 to $50. 
| | | | |
| --- | --- | --- | --- |
| TCC Parking Facility | Address | Non-Event Daily Rate | Walking Distance |
| Pam Iorio Parking Garage | 301 Channelside Drive | $12  | 3 minutes |
| Fort Brooke Garage | 107 N. Franklin Street | $12  | 6 minutes |
| Selmon Expressway West Parking Lot | 201 S. Ashley Drive | $9 | 5 minutes |
| Selmon Expressway CAMLS Parking Lot | 301 S. Florida Avenue | $9 | 4 minutes |
| William F. Poe Garage | 802 N. Ashley Drive | $9  | 15 minutes |
| Twiggs Street Garage | 901 E. Twiggs Street | $9 | 20 minutes |
Accessible Parking
Two ADA parking spaces are available right in front of the TCC's Channel Entrance, while the official garage offers twelve ADA stalls on the second level. Some nearby parking areas are also wheelchair-accessible, including Selmon Expressway lots and multiple garages. Wherever you park, don't forget to display your disabled parking permit or placard.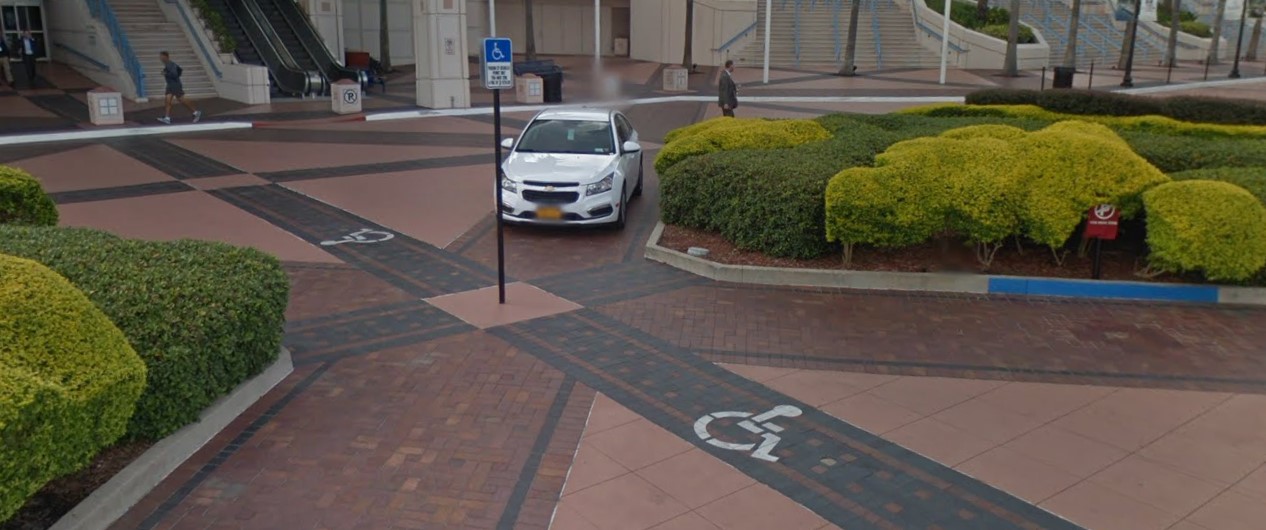 Ways To Avoid Tampa Parking Tickets
Getting a parking ticket at the Tampa Convention Center can cost you from $25 for an expired meter to $251 for illegal parking in handicapped spots. To stay away from parking tickets and avoid additional charges, read the signs carefully and use the ParkMobile app. Each parking meter sign includes all the relevant details.
How To Use the ParkMobile App
The Tampa Convention Center parking app is available at no cost on the App Store and Google Play Store. After you park your vehicle, check the zone number on the closest parking meter and enter it into the ParkMobile app. You may use the app to extend your session remotely or even reserve a spot in advance at some locations. For reservation parking availability, look for the "Reserve" tab.
Public Transportation in Tampa
Public transit is an excellent substitute for parking, and the closest station is Dick Greco Plaza, which is right across the street from the TCC. The TECO Line Streetcar runs every 15 minutes, while the local HART cash fare is $2. Use the HART Trip Planner for more information or to plan your trip to the convention center.
If you're flying into the city and thinking about renting a car or taking a shuttle bus to the downtown area, check out the Tampa Airport Shuttle guide. You may also consider requesting an Uber at Tampa Airport since TPA is less than 10 miles away from the TCC.
Find Parking in Tampa Easily With Parking Access
Our mission is to assist drivers across the country in finding cheap parking for any event or trip! In addition to the Tampa Convention Center parking guide, city residents and visitors can use our help to book cheap event parking at major sports venues in the area. Click on any link for additional information.
If you plan on flying out of TPA soon, check out the in-depth guide to Tampa Airport Parking to learn about on-site and off-site parking services, hotel deals, and more!