Steamboat Ski Resort Parking 
With over 169 named trails scattered over 2,965 acres, Steamboat Ski Resort is one of northwestern Colorado's most popular ski areas. More than 500,000 people visit Steamboat Springs annually for its winter activities, so parking can be a real challenge during the peak season. Our guide offers everything you need to know to plan your trip. Learn about winter and summer parking services, free lots, and parking services, with bonus tips on using public transportation if you're looking to forego parking entirely.
Is There Parking at Steamboat Ski Resort?
The resort offers multiple free and paid parking facilities, some of which close during the summer. See the location of all parking at Steamboat Springs Ski Resort on the map below, and keep reading to learn more about parking fees throughout the year and where to find free parking.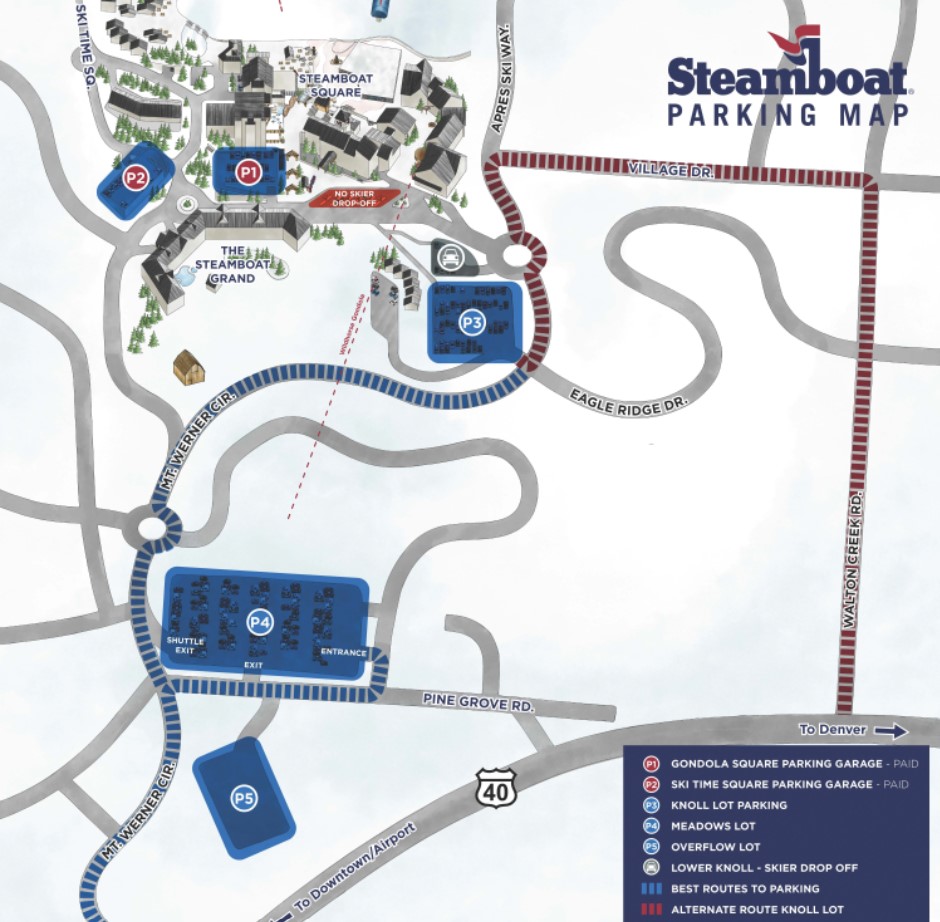 Steamboat Ski Resort has Free Parking Lots
Complimentary parking availability varies according to the season and is offered by a couple of car parking areas. Learn more about each below, and don't forget to arrive early if you plan to take advantage of these lots.
Meadows Parking Lot
This Steamboat Ski Resort parking lot is located near the bottom of Mt. Werner Rd., right by the exit of rt. 40. It is open daily regardless of the season, with free shuttle buses that can take you to the base area. Overnight parking is not allowed in the Meadows Lot. 
During the winter, Steamboat Ski Resort's complimentary shuttle buses at the Meadows Parking Lot run from 7:15 AM to 6:30 PM and from 9:30 AM to 6 PM during the summer. Operating hours are subject to change, so we recommend checking the Steamboat Ski Resort website for more information.
The Steamboat Springs free public bus operates later into the evening, dropping off riders at Montview directly across from the Meadows Parking Lot.
Upper Knoll Parking Lot 
The Upper Knoll Lot is located just several hundred yards away from the ski slope base and is open most days, but it is unavailable during the summer of 2022. It is within walking distance from the base area and also prohibits overnight stays. Check the lot's availability on the Steamboat Ski Resort website before your summer trip to the resort. 
Steamboat Ski Resort Paid Parking Lots 
Steamboat Ski Resort offers four paid parking facilities located in or near the base area. Some of these options are closed during the summer of 2022.
Steamboat Square Garage

is located near the heart of the base area. It is open from 6 AM to 2 AM, while the lower levels offer overnight parking.

Ski Time Square Garage

is located right across the Steamboat Square Garage. Operating hours are 6 AM to 2 AM.

Lower Knoll Lot

is a small lot beside the Upper Knoll Lot. It also serves as a skier drop-off area. 

Base Club Parking Lot

is available for Base Club Members only. 
Discover all short-term Steamboat Ski Resort parking fees in the following table.
Facility
Season
Daily Rate 

Steamboat Square Garage

Summer

$8

Winter

$40–

$50

Ski Time Square Garage

Summer

$10

Winter

$40

Lower Knoll Lot

Summer

Closed for Summer 2022

Winter 

$15–

$30 

Base Club Parking Lot

All-Season/Base Club Members only 

$30 Sunday – Friday
During the winter, Steamboat Square Garage and Lower Knoll Lot charge lower fees Monday through Thursday, while the higher rates apply Friday through Sunday.
How to Pay for Steamboat Resort Parking
If you opt for Steamboat Square Garage or Ski Time Square Garage, take note of the following details when paying for your stay. Parking without paying will incur a $75 parking ticket, so be sure to follow parking regulations. 
Payments must be made on pay station kiosks or through the Park Mobile App. 

Enter your plate number and credit card number to complete the payment. 

The Steamboat Square Garage and Ski Time Square Garage offer free 15-minute parking.
ADA Parking Availability
Steamboat Ski Resort offers ADA parking in several locations. The closest accessible parking spaces are in Steamboat Square Garage, where payments may be made via the Park Mobile App. From here, visitors can use an elevator, escalator, or ramp to enter the main base area.  
The Torian Plum Parking Garage, an underground parking garage in Torian Plum Plaza, also offers ADA parking spaces, but it is not available for skier parking. Take note of the garage's two-hour limit. The farthest options are the Lower and Upper Knoll Lot, just a five-minute walk to the base area.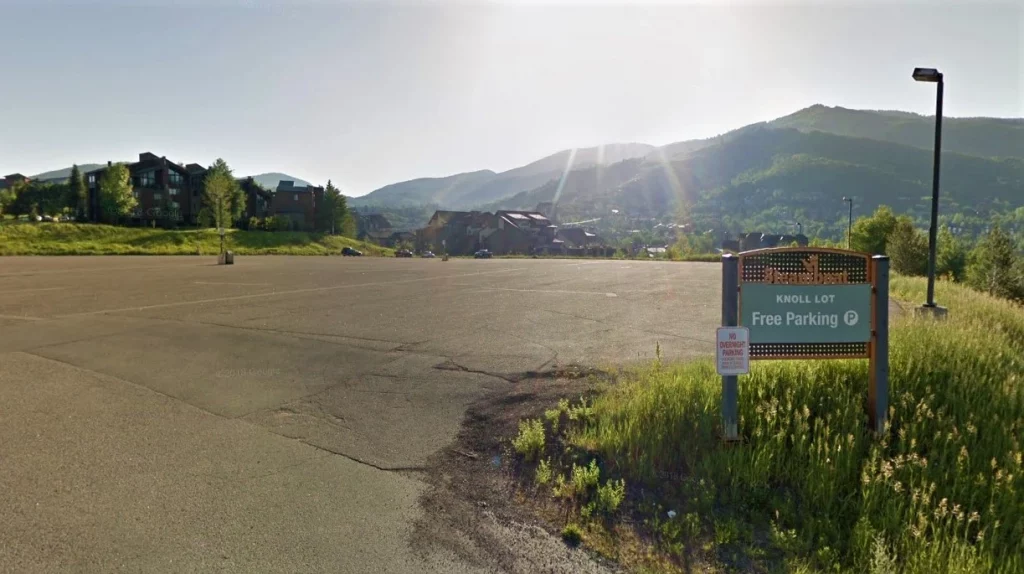 Hotel Parking at Steamboat Ski Resort 
If you're willing to spend more for convenience, make use of valet parking at the hotels within the base area. The prices listed below are subject to change.
| | |
| --- | --- |
| Hotel | Valet Parking Rate |
| Steamboat Grand | $25–$30 |
| One Steamboat Place  | $27 |
| Sheraton Steamboat Resort Villas | $28 |
The Steamboat Grand rates vary according to the season—the higher fee applies during the winter months.
Ride the Bus or Train to Steamboat Ski Resort
Utilizing public transportation is the best way to skip the inconvenience and expense associated with Steamboat Ski Resort parking.
Free Steamboat Springs Transit (SST) buses run around the city and from the downtown area to the ski resort. The bus system operates year-round with stops approximately every 20 minutes. For more information regarding major stops and pick-up times, check out the Steamboat Springs website. 
The Snowstang, a travel alternative that operates on weekends and holidays, can take guests from Denver to Steamboat Ski Resort. Passengers can board at the Denver Federal Center or the Denver Union Station. One-way fares are $20 with discounts for children and seniors.
Find Parking Effortlessly at Any Major Ski Resort!
Here at Parking Access, we believe that parking should be the least of your worries when traveling. Our parking experts work very hard to offer the best parking guides on major destinations nationwide. Apart from the Steamboat Ski Resort parking guide, Colorado residents and visitors can learn about the parking situation in the following resorts: 
We also offer parking guides for popular resorts in Utah, such as Park City Parking and Snowbird Parking.
If you're planning to fly out of Colorado, check out our Colorado Springs Airport Parking guide to reserve the cheapest airport parking spot!