Sacramento is a bustling city in California with a lot to offer, but finding an on-street spot to park your vehicle can be a daunting task. With different parking regulations, meter locations, and options for off-street parking, it can take a lot of work to know where to begin. That's why we're here! We provide all the information you need to know about Sacramento parking tickets to make the process easy and stress-free.
With our tips and tricks, you'll be able to find a spot quickly, avoid getting a ticket, contest a ticket that you believe is unjustified, and learn the proper steps to pay a ticket if necessary. It'll help you drive around the city and park your vehicle without any hassle.
Ways To Avoid a Parking Citation in Sacramento
Parking citations can add up quickly to become a financial burden, but there are ways to avoid them. One way is to use off-street parking garages or lots and reserve a parking spot in advance.
Another option is to take advantage of public transportation, such as buses or the light rail system, instead of driving a car. However, when driving is unavoidable, ensure you understand and follow parking regulations, signs, and time limits to avoid getting a ticket.
Be Aware of On-Street Parking Regulations
When parking on the streets, it's important to be aware of the City of Sacramento regulations in place. Meters typically require payment starting at 8:00 AM, with end times varying by area. However, most areas do not enforce meter payments or time limits on Sundays.
In addition, the City of Sacramento has installed 4,000 smart meters that accept credit/debit cards, making payment more convenient. Affordable meter rates are also available, including discounted long-term rates for those who work downtown.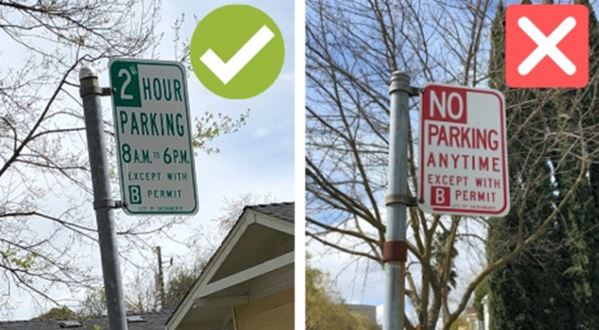 Also, be aware of parking in loading zones, tow-away zones, and expired meters, as they may result in a parking citation. The cost of a parking citation in Sacramento is usually around $35-$45, and late fees of $30 will be added unless the citation is paid within 21 days.
Reserve Off-Street Spots in Advance
Don't let finding a parking spot consume your day; make a reservation in advance and make your life easier. Not only will you save time by not having to circle around looking for a spot, but you may also be able to save some money.
You can use online services, such as ParkWhiz and SpotHero, to reserve a suitable garage parking spot in Sacramento. For instance, we can help you find a space near Golden 1 Center at a low price.
Use Public Transit
Sacramento's public transit system provides a cost-effective and convenient option for residents and visitors. With the bus and light rail system, getting around the city is as easy as it gets!
The Sacramento Regional Transit offers buses and light rails with an affordable basic fare of $2.50 and a Daily Pass fare ranging from $2.50 to $7. You can also use the local transportation services of Greyhound and Amtrak to move around the city.
How To Contest a Sacramento Parking Ticket
You can contest a parking fine within 21 days of receiving it. The process for the same is to fill out the form on the back of the citation and mail it in using the address: the City of Sacramento Revenue Division, 915 I Street, Room 1214, Sacramento, CA 95814.
Alternatively, you can fight a parking ticket online; just remember to do it within 21 days, or you will have to pay the full amount of the fine.
Tip: You can also use the services of DoNotPay to let them take care of your parking fines.
How & Where To Pay Your Ticket
You have the following 4 options to pay for your parking ticket in Sacramento.
Pay in person: To pay for your parking ticket in person, you'll need to visit the Revenue Division, located at 915 I St #1214, Sacramento.
Pay by mail: You can send a money order or check that should be payable to Sacramento City using the mailing address: P.O. Box 2551 Sacramento, CA 95812-2551 Sacramento Revenue Services.
Pay by phone: Call 1-888-266-1314 and use your credit/debit card to pay for your parking fine.
Pay online: You can visit the Sacramento citations online portal and enter the ticket number and debit/credit card details to pay your parking ticket online.
Note: If the citation remains unpaid after 30 days, it will be sent to collections, and an additional $300 will be added.
Final Thoughts
In conclusion, Sacramento parking tickets always cause unwelcome expenses and hassle for drivers. However, there are ways to avoid them, such as parking in a garage or being mindful of posted rates and hours. While parking prices and fees can vary in Sacramento, it's always a good idea to research beforehand to avoid unexpected costs.
If you do receive a ticket that you believe is unjust, you have the option to contest it. The best way to do so is by following the instructions on the ticket and reaching out to the appropriate office—be sure to use the above-listed info.
Overall, you can undoubtedly avoid the frustration and expenses associated with tickets by being aware of your options and taking necessary precautions.