There's more to your trip than choosing a cruise line or destination—finding a car parking spot in advance can reduce your costs and stress levels. It will also save you plenty of time on the day of departure. Before you set out from one of the busiest cruise ports in the world, learn how to find and reserve the best Port Canaveral cruise parking spot! Parking Access gives you a full overview of secure parking at the port and in the area, as well as long-term parking prices and money-saving tips.
The official Port Canaveral parking service is the most convenient choice for all cruisers. It's directly adjacent to the cruise terminals. The port doesn't offer a complimentary shuttle service since parking areas are a short walk from any terminal. However, if you have a lot of luggage, it may be hard to carry all of it all the way to the check-in point.
The list below shows the Port Canaveral parking rates for standard and oversized vehicles or RVs.
| | |
| --- | --- |
| Daily Parking Rate | $17 |
| 5-Day Rate | $85 |
| 7-Day Rate | $119 |
The port parking lot will accept American Express, MasterCard, Visa, and Discover credit cards. Note that the listed rates are subject to change, and you may call the Canaveral Port Authority at 321-783-7831 for the latest info.
Accessible parking at Port Canaveral is available on a first-come, first-served basis. Any cruiser who uses such spots must own a disabled parking permit or license plate.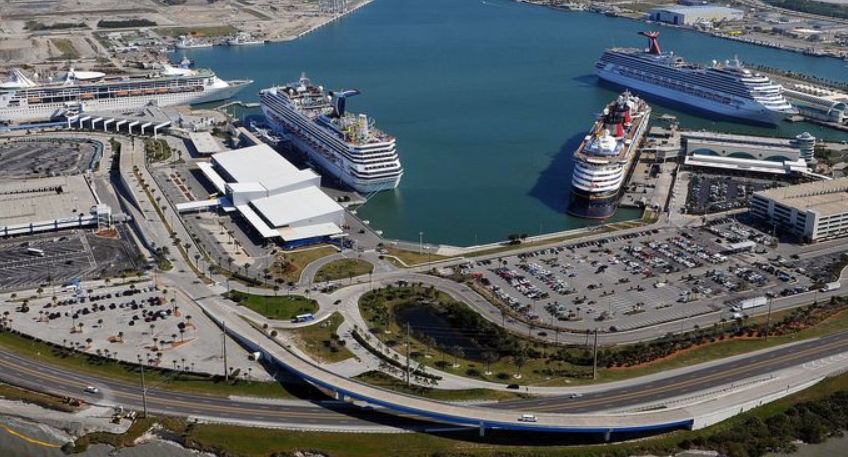 Wish to minimize your costs? You have several great off-site parking options in the area! These parking lots have lower rates and offer shuttles to and from the port. See more info on each cruise parking facility below.
Cruisetime Parking & Shuttle has a rate of only $8 per day, and the price includes transportation fees. Therefore, your parking price for a week-long cruise would be $56. Book your spot online or call 321-591-0854.
Park Port Canaveral is one of the closest off-site options with a daily parking fee of $8.95! It offers a secured parking area and free air-conditioned shuttle vans, which are wheelchair-accessible. For more info, call 321-784-0000 or check out the website.
GO Port Canaveral Parking is a short drive from the terminals and provides a low-cost parking package. The package includes parking and shuttles, but you may also reserve a special hotel deal. The price depends on how many people are in your group—the rate for one week is $55 for 1 traveler plus $5 for each additional traveler.
Park-N-Cruise in Merritt Island provides parking and shuttle rides to all Port Canaveral terminals. Shuttles run every hour from 10 AM to 1 PM. Online reservations aren't feasible at the moment, but you can call 866-706-8999 to find out more or book parking.
Lots of Honor can provide WWII veterans with a discounted rate of $7.95 compared to its regular rate of $10.95 per day plus fees. The company offers complimentary shuttles and special car covers for an additional $10. You can reach out to Customer Service at 866-706-8999.
528 Port Cruise Parking used to have a daily rate of approximately $8, but we couldn't find the latest information since its website isn't functioning at the moment.
Park & Cruise Hotels
Most hotels with parking packages are in the Cocoa Beach area, and just a few of them are closer to Port Canaveral. Some offer Fly Snooze Cruise packages, which include complimentary transportation to and from both Orlando Airport and the cruise port. Park and Fly deals provided by some establishments offer transfers to the port, too. You can also find many similar options for the Miami Cruise Port and the Fort Lauderdale Cruise Port.
Hampton Inn Cocoa Beach
Fly Snooze Cruise packages start at $300. The deal only includes free transportation for 1 person, and a transfer for an additional person will cost $45. A round-trip to Port Canaveral is $12 for a standard-room guest.
Country Inn & Suites
The hotel offers a place to sleep and leave your car with a free ride to the cruise port. A shuttle ride is usually $5 each way, but it's free if you book a room.
Courtyard by Marriott Cocoa Beach
Fly, Snooze & Cruise Available starting at $225 a night. It includes round-trip transportation to/from Orlando MCO and Port Canaveral.
Homewood Suites Cape Canaveral
This is one of the closest hotels to the cruise terminal. The shuttle cost is $5 each way per person. When you check-in, let the front desk folks know you need transportation to the Canaveral Port.
Radisson Resort at the Port
About 2 miles and a 10-minute shuttle ride away, the hotel offers a Park and Cruise package for up to 2 people. The package includes free parking and a ride to the terminal. If you don't book a package, the shuttle is $10 per person.
Econo Lodge
For only $180, this is one of the best Fly Snooze Cruise packages. It contains a free ride to the Port Canaveral cruise terminal and a shuttle from the cruise ship to Orlando Int'l Airport.
Holiday Inn Express & Suites
Park & Cruise packages are available at this hotel only if you book a one-night stay. They may charge you an extra $7 per person for the cruise transfer.
Days Inn Wyndham
The Fly Snooze Cruise package is available for around $278. The hotel offers transportation to and from both MCO and Port Canaveral. If you book a standard room only, the shuttle is $7 and runs from 10:30 AM to 12:30 PM.
Cocoa Beach Suites
This hotel charges $10 each way per person to get to the cruise port and does not offer shuttles to/from MCO Airport.
Quality Inn & Suites
Packages are available for as low as $195 per night. They include a round-trip shuttle service to your cruise ship at Port Canaveral, as well as Orlando Airport.
Motel 6
A budget option with a $7 shuttle to the cruise terminals to catch a Norwegian cruise, for instance, only taking about 10 minutes, sounds like a good option to us. 
In Conclusion
Overall, you have an array of Port Canaveral cruise parking options. For those flying into Orlando International, we've listed the Fly, Snooze, and Cruise hotels that allow you to arrive a day early of your cruise, have a good night's sleep and get free transportation to and from the port or airport. It's a great service, and we highly recommend it.
If you live within driving distance, you have several options. You can simply leave your car at one of the off-site parking facilities or use official parking at the port. Alternatively, if you want to come to the area a few days early and spend them at the beach, leave your car at one of the hotels that offer free cruise parking and shuttles. Finally, if you want a hotel room for one night and a shuttle to the terminal, we've listed out those options and the shuttle cost. 
Parking Access is available around the clock to provide you with secure parking services wherever you go. We offer a quick and simple way of booking at many ports, as well as countless airports around the world. Passengers also searched for: