Nantasket Beach Parking
Nantasket Beach is a summer destination in Massachusetts overlooking the Atlantic Ocean and Massachusetts Bay. The beach is open from dawn to dusk and is located at the following address: 212 Nantasket Ave., Hull, MA 02045. Read our guide and learn about the various parking alternatives, daily parking fees, and public transportation options.
Parking Options & Hours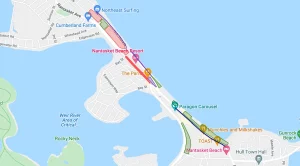 Parking rates vary depending on the type of parking lot. There are two types of parking at Nantasket Beach: those managed by the Department of Conservation and Recreation (DCR) and by the Town of Hull. Refer to this map for the location of all Nantasket Beach parking lots.
Below are the DCR-managed lots:
Main DCR Beach Lot
George Washington Blvd DCR Beach Parking Lot
Seawall Parking Lot
MJM Bathhouse Parking Lot
Additional DCR Beach Parking Lot
From May 29 to Labor Day, visitors will be charged the following fees when parking in these DCR lots.
| | |
| --- | --- |
| Visitor | Price |
| MA residents | $15 |
| Non-MA residents  | $40 |
Payments are collected from 8 AM to 4 PM every day. If you arrive earlier than 8 AM, you must wait for the parking attendants to arrive to pay or you risk incurring a parking ticket. On weekends, we recommend early arrival since lots fill quickly.
If you plan to visit the beach frequently, purchase an annual parking pass for $60 or a lifetime senior pass for $10 from the YODEL web page.
Free 2-hour parking is offered at two lots: 
The surface lot adjacent to The Parrot at 1 Hull Shore Drive
Seawall Street Parking along Hull Shore Drive
Alternatively, park in the Town of Hull's surface lots below. The price is $20 per day, but rates may vary depending on the weather. Hull residents with a town parking sticker enjoy free parking.
| | |
| --- | --- |
| Facility | Location |
| Water Street Lot | Corner of Water Street & Nantasket Avenue  |
| HRA Lot 1  | Corner of Hull Shore Drive & Nantasket Avenue  |
| HRA Lot 2 | Hull Shore Drive |
Street Parking Around the Beach
On-street parking is available along Nantasket Avenue and Hull Shore Drive. Some of these offer free short-term parking for two hours, while others are metered. Read the signs carefully to make sure you don't get a parking ticket.
Take Public Transit to Avoid Parking
The MBTA bus line 714 drops by Nantasket Avenue from Bay Street to Wash Boulevard bus station. It's a five-minute walk from the beach, and the one-way fare is $1.70.
Park With Ease in Boston
Exploring Boston's coastal locale? Read our parking guides on Boston beaches: 
If you're moving to the city, check out our guide on Boston Monthly Parking or Boston Logan Airport Parking.