Last Updated on July 17, 2022 by Joshua Lagandaon
Lady Bird Lake parking
Situated on the Colorado River, Lady Bird Lake is a major recreational area popular for its land and water activities like river cruising, paddle boarding, biking, or hiking the trails. Visitors are treated to splendid views of downtown Austin's stunning skyline, ball parks, and cultural attractions. We listed the best surface lots and public parking facilities around the reservoir, with tips on how to save on parking costs and use public transportation.
Convenient Parking Around Lady Bird Lake
The lake offers eight official access points to multiple lake trail options, and parking location varies depending on your preferred access point. Plenty of parking areas are located along the Ann and Roy Butler hike and bike trail that circles the shores of the reservoir. The Trail Foundation offers a convenient map of all Lady Bird Lake parking lots and metered parking areas.
We listed the best options below with additional information to help you select the most convenient spaces.
Free Parking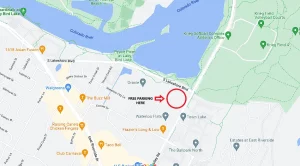 Free 2-hour parking is available along South Lakeshore Blvd between Pleasant Valley Road and Riverside. This lot is open 24/7 and offers 87 parking spaces.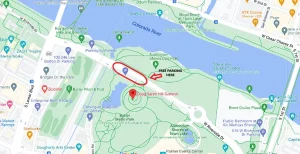 Free parking is also available near the Doug Sahm Hill Summit along W Riverside Dr.
Metered Parking
There is limited free two-hour street parking along W Riverside Dr, while plenty of metered parking is available in South Austin and the Downtown Area. The rate is $2 per hour with a 3-hour maximum. Metered parking is enforced Monday to Sunday from 5 AM to 10 PM.
Alternative Parking Areas
We did a little digging and discovered several convenient parking spaces near Lady Bird Lake trail and the reservoir. Consider these options when deciding where to park.
Boat rental shops: The Rowing Dock located at the west end of the river offers a full-sized parking lot for customers free of charge. Epic Sup at the east end offers limited on-site parking as well, while metered street parking is available behind the Texas Rowing Center at Stephen F. Austin Dr.
Festival Beach: Two lots adjacent to Edward Rendon Sr. Park offer car parking and accessible parking spaces.
Zilker Park: Visitors exploring the west end of the river may consider parking at Zilker Park. Free parking is available most weekdays throughout the year, especially from October to March. Read our guide on Zilker Park Parking for more information.
Red Bud Isle: This 17-acre island near Tom Miller Dam in the middle of the lake offers a small parking lot for about 40 cars.
Palmers Events Center: This event space at 900 Barton Springs Rd houses its own parking garage with a rate of $8 for all-day parking.
Use Public Transporation
Capital Metro Bus lines 1, 20, and 801 stop by the Vic Mathias/Auditorium Shores bus station, while bus line 10 drops by 400 S 1st/Riverside station. Both stations are a 7-minute walk from the reservoir. Calculate your fare using the Capital Metro website.
Our Experts Can Help You Park Effortlessly
We've covered several destinations in Austin, including Austin Convention Parking and Zilker Park Parking. Looking for monthly parking options? Our Austin Monthly Parking guide offers information about monthly parking garages and airport parking.
If you're flying out of the city, read our comprehensive Austin Airport Parking guide to learn about on-site parking areas, private parking lots, and hotel deals.