Known as the "most-loved park" in Austin, Zilker Metropolitan Park covers around 350 acres of the southern part of the city. It features picnic sites, volleyball courts, a large playground, a golf course, the Barton Springs Pool, and bike and canoe rentals. Aside from engaging in recreational activities, people often come to the park to attend various exciting events. Whatever the reason for your visit is, use our in-depth guide to find a convenient Zilker Park parking lot near your destination.
Discover the locations of all car parking areas within and around the park, daily fees, and how to find free parking. If you're coming during peak season or a big event, check out our section about transportation alternatives. 
Zilker Park is open from 5 AM to 10 PM daily and sits at the following address: 2207 Lou Neff Rd, Austin, TX 78746.
Zilker Metropolitan Park Parking Lots 
Multiple surface lots are available around Zilker Park and offer plenty of paid parking spots. Whether you're planning a picnic, boat ride, or going to the playground with your kids, you'll be able to find a nearby car parking space. We listed all the options below so that you can find the one that works for you.
Lot 1

(Zilker Park Pay Parking)

Lot 2

on Lou Neff Road

Lot 3

by the Zilker Volleyball Course

Lot 4

on Stratford Drive

Zilker Gravel Lot
Pecan Grove Lot
Playscape Lot
Moonlight Lot
Rock Garden Lot
Pool Parking Area
Polo Parking Lot
Lot 1 is placed at 2040 Lou Neff Road. The entrances to Lots 2 and 3 are also on Lou Neff Road, while Zilker Gravel Lot and Lot 4 have entry points on Stratford Drive. 
There's also a metered parking lot across the Barton Creek Bridge, and it's within a 10-minute walking distance of the park. Check out all the Zilker Park parking locations on the map below, and be sure to park properly to avoid Austin parking tickets.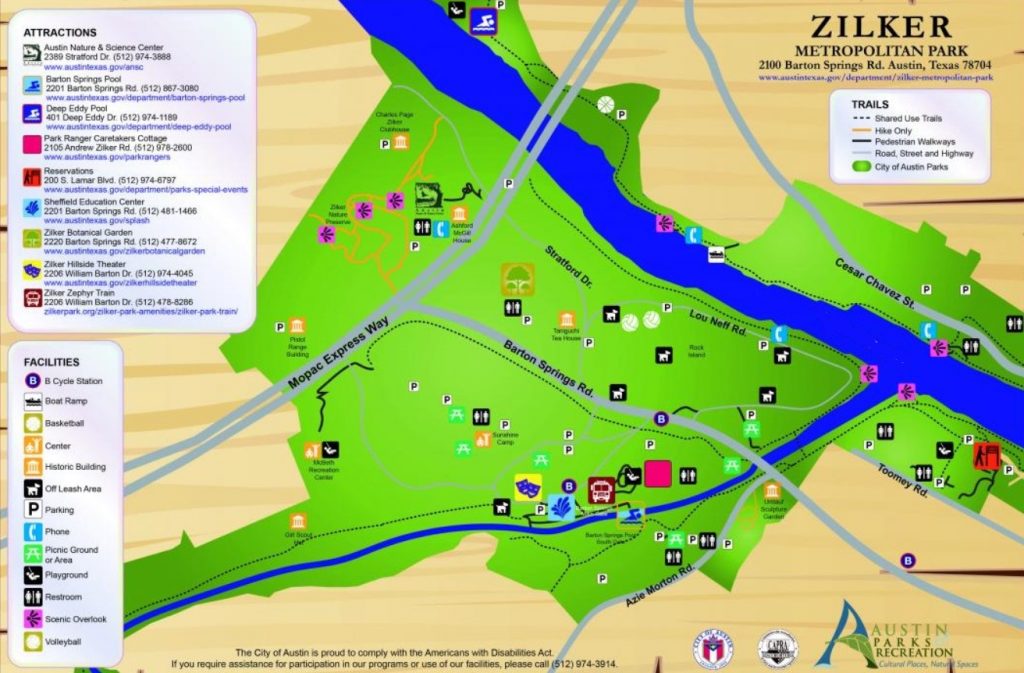 How Much Is Parking at Zilker Park?
The Zilker Park Parking fee is $5 per vehicle from March to September. The daily rate applies on weekends and some holidays. Use a pay machine to pay for parking, and place the receipt on the dashboard.
Note: Overnight parking is not allowed, and you must leave the lots by 10 PM. All parking is obtainable on a first-come, first-served basis, so we suggest early arrivals during holidays and summer weekends.
Is There Free Parking at Zilker Park?
Visitors can come across free parking near Zilker Park on most weekdays throughout the year, especially from October to March. Zilker Lodge offers free guest parking for selected events in the two lots across from the building. Complimentary parking is offered for lodge events, and you cannot find free spots for any occasion. 
For instance, Zilker Park didn't provide Zilker Park Trail of Lights parking in 2021. Click here for up-to-date information about the upcoming Trail of Lights, or look into special event prices.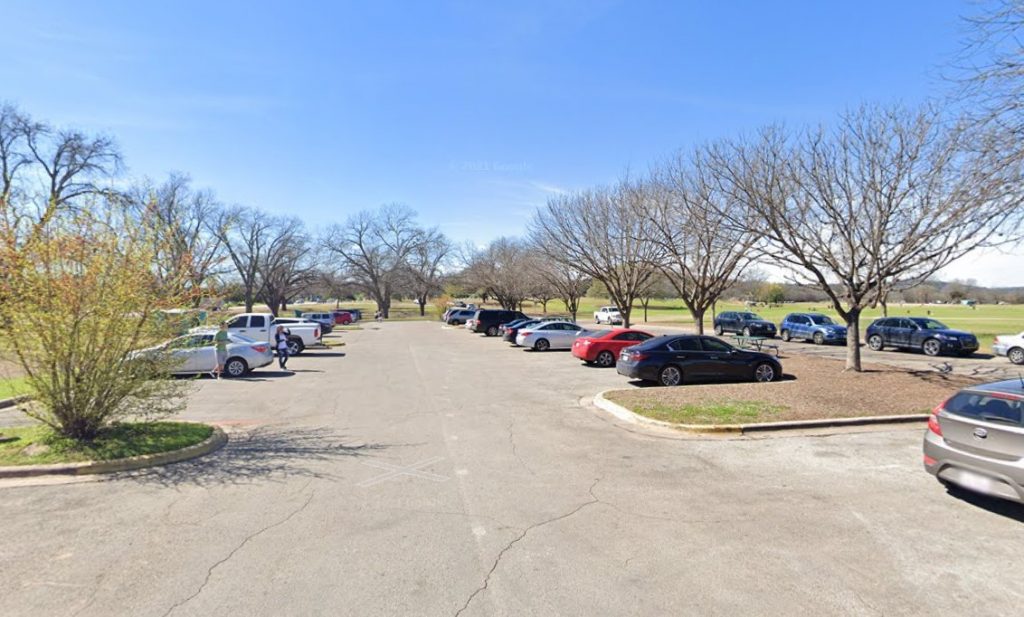 Take Public Transit to Austin's Most-Loved Park
Capital Metro provides convenient public transportation, and MetroBus 30 makes several stops along Barton Springs Road. This route operates between downtown and Westgate Transit Center in South Austin, serving several neighborhoods along the way. A single-ride fare is $1.25, while a Day Pass is only $2.50.
Those coming from the northern part of the city may use MetroRail Red Line to reach downtown and then hop on MetroBus 30. If you plan to do this, purchase a Day Pass since it allows unlimited transfers. Click here for schedules, maps, and other helpful info.
Find Parking in Austin Easily With Our Help!
Our international team has created countless guides to help drivers across the continent find safe and cheap parking services. We covered the most popular locations, venues, and city attractions countrywide. Aside from Zilker Park parking information, Austin residents and visitors can look us up to learn more about the following.
If you plan on flying out of the city, we can assist you in getting a discounted parking spot near your terminal. Our Austin Airport Parking guide covers all on-site parking areas, cheap private lots with airport shuttles, hotel deals, and more!